English version at the bottom of the page (here)
Les trous noirs les plus massifs de notre Univers se trouvent au centre d'un grand nombre de galaxies. Lorsque ces monstres dévorent des étoiles piégées par leur champ gravitationnel intense, ils deviennent ce que l'on appelle des
Quasars
; autrement dit, des
trous noirs
"alimentés" et actifs, émettant une source de lumière incroyable.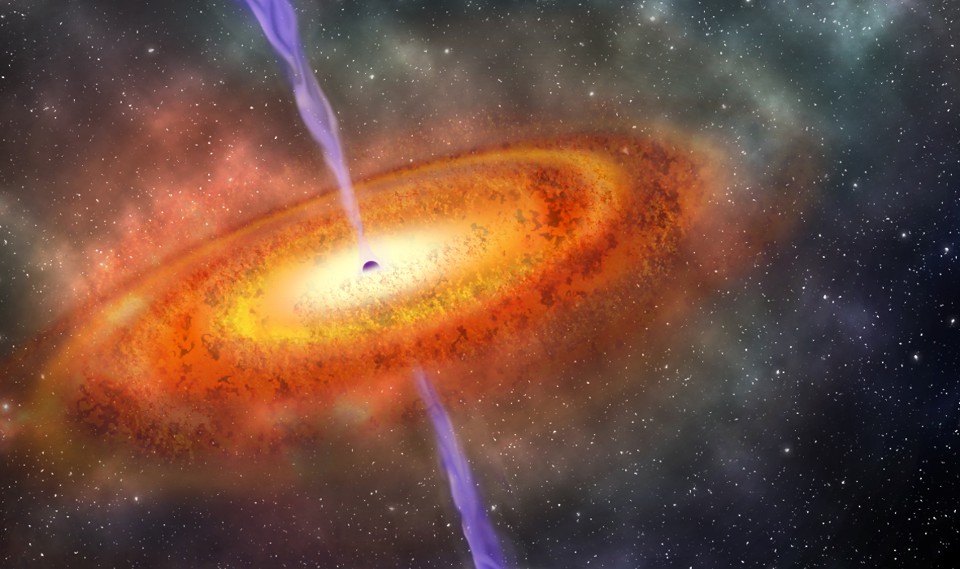 Vue d'artiste du Trou noir le plus vieux de notre Univers, faisant parti du Quasar J1342+0928
Credit: Robin Dienel, courtesy of the Carnegie Institution for Science
Le Quasar le plus vieux et le plus éloigné de notre Univers
Son nom est
J1342+0928
. Découvert par
Eduardo Bañados
, il est à ce jour le quasar le plus distant et le plus âgé jamais connu.
Ce trou noir supermassif en activité s'est formé alors que l'Univers n'avait que
690 millions d'années
, soit une naissance relativement précoce, lorsque l'on sait que l'Univers est aujourd'hui âgé de
13,8 Milliards d'années
. A cette date, l'Univers était en pleine évolution, les premières galaxies se formaient, et les gaz interstellaires changeaient la composition initiale neutre de l'Univers, en une composition ionisée.
Malgré que ce trou noir ne se soit développé qu'à environ
5 % de l'âge actuel de l'Univers
, sa masse n'est pas pour autant réduite : elle est estimée à
800 millions de fois celle du Soleil
!
Toutes ces mesures ont été menées par l'intermédiaire du télescope Blanco de 4 mètres installé à l'
Observatoire Inter-Américain Cerro-Tololo
au Chili, ainsi que des télescopes infrarouge WISE et UKIDSS. Les recherches se sont effectuées sur une portion du ciel représentant
un dixième
de la surface totale de la voûte céleste. Le seul Quasar découvert dans cette région est donc J1342+0928, ce qui indique bel et bien
la rareté
d'un tel quasar !
Image Credit: Jinyi Yang, University of Arizona; Reidar Hahn, Fermilab; M. Newhouse NOAO/AURA/NSF

A l'Origine de la plus ancienne Galaxie ?
D'après le co-auteur de cette découverte,
Xiaohui Fan
, il est étonnant de voir qu'un trou noir aussi massif se soit formé aussi tôt dans la vie de l'Univers. Il déclare que "
Ce nouveau quasar est lui-même une des premières galaxies, et il abrite encore un trou noir supermassif, aussi massif que ceux de notre Univers actuel !
".
Plus d'infos sur cette découverte, avec l'article officiel paru le 7 décembre 2017 dans le journal scientifique Nature :
ici
.
************************ENGLISH VERSION*******************
Supermassives black holes of our Universe can be found at the center of reams of galaxies. When these behemoths devour the stars located in their intense gravitational field, they become what we call Quasars ; in other words powered black holes and active, emitting a huge amount of light.


The oldest and the futhest Quasar of our Universe
Its name is J1342+0928. Discovered by Eduardo Banados, it is for the moment the most distant quasar and the oldest ever found.
This very active black hole was formed whereas the Universe was only 690 millions years old, that is to say relatively early considering that the Universe appeared 13,8 Billion years ago. At that time, it was becoming to evolve : the first galaxies were being formed and interstellar gas changed the composition from a neutral Universe to ionized one.
Although this black hole was born at only 5% of the current Universe age, its mass is not light though : scientist estimate it at 800 millions solar masses !
All these measures and data were retrieved thanks to the 4-meter-diameter Blanco telescope from Cerro-Tololo Inter-American Observatory, and the infrared telescopes WISE / UKIDSS. Researches were done on a very huge region covering a tenth of the hole starry sky area. The only quasar which came up was
J1342+0928, which emphasizes the scarcity of this discovery.
Did it form the oldest Galaxy of the Universe ?
According to the co-author of this discovery, Xiahui Fan, it is absolutely stunning to see that such a massive black hole was formed at the early stage of the Universe evolution. He declares "
The new quasar is itself one of the first galaxies, and yet it already harbors a behemoth black hole as massive as others in the present-day Universe!
"
More details about this exciting discovery with the official article published in Nature scientific journal, on December, 7 2017 :
here
.